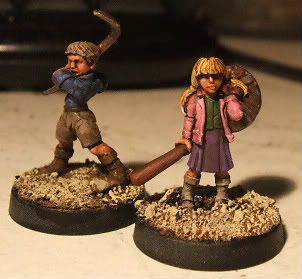 Shorty and Bully are just two of the many children living in the Dust Falls community, under the guidance of 'Big' Sven. As is common in this age of post-Megadeath, everyone able to bear arms will do so when a settlement is under attack; even the children. As for Shorty and Bully, this has had the sideeffect of making them the notrious ringleaders of a small gang of children within Dust Falls, called Da Bwig Bwad Bwonkers! Their main crimes against humanity seems to be focused on petty theft of sweets, smoking as underaged and upsetting their parents by having brawls against the Upside Uppities, the other gang of Dust Falls and in leaving the settlement without word in order to go explore the countryside.
These two gems are from
Hasslefree Miniatures
once again, as part of their
Adventurer
range; and quite frankly, I love them! Although, not shown, these cretins are no taller than roughly 15-18mm and they're on a 20mm base, not the usual 25mm base!
They will be a perfect addition to any wasteland settlement, because unlike the un-patched UK version of Fallout 2 (which incidently was the first I played) there
will
 be children roaming the wasteland. After all, there's not much point in profilactrics once humanity is at the brink of extinction, is there?
Now to scour the various websites to pick up more children for a big showoff between Bwig Bwad Bwonkers and Upside Uppities in Dust Falls (without any grown-ups interfering).
And now, back to the paint-station! See you all tomorrow for more blogs from the Wasteland!