One of the major car companies of the pre-Megadeath Northern States was the Pacific Motors Company; who had specialized in "cars for the average joe" as their slogan went. Among their more high profile cars were the model included above; The Cougar. It was a very spacious car, able to carry two adults and three children; had all the modern additions like A/C units, 8-track player, reclinable seats and electric windows.




Of course, post-Megadeath, what is left of these once proud cars are often nothing more but shambling husks. However, the Pacific Motor Company prided itself in building cars that would last for a lifetime, and those who have been properly maintained in the hundred years post-Megadeath are still very much road-worthy and the prized possession of any Scavenger worth his salt.
This particular model start its life as a no-brand 1:43 car that looked like this when I had finished tinkering with it: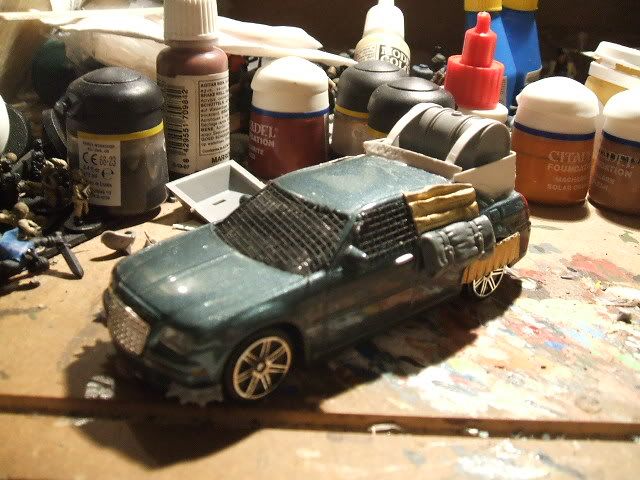 It was painted a very deep red in order to make it as nondescript as possible, and still retain the look of a vehicle that has been driving the wasteland for too long. My initial plans were to include a gun of some sort, but I quickly came to the conclusion that I had too many cars bristling with guns that had
that
look - but almost no cars who were more civilian with
that
 look. And here's the first of - hopefully - many Wasteland cars.
Oh, and I'm sorry about the rather poor picture quality and the late post; but I had a lot of stuff to attend to (including painting the vehicle) so the pictures had to suffer a litter in order to get todays post up.
Thanks for looking and stay tuned for tomorrows update!