Hot off the painting table, here's just a tiny teaser of what I'm currently working on (apart from writing on Wasteland Chronicles) - The Fernando 500 "Roadster".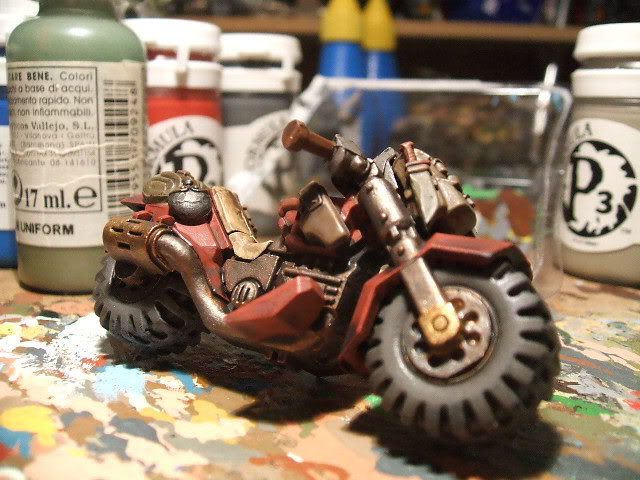 This particular model of the

Fernando 500

has had several in the field upgrades by its owner; most notably the various bags and pouces needed for extended use in the field, suiting it's new role as a long range recon bike. It has been pressed into service by the

Fort Baxtor Wasteland Expeditionary Force

and serves alongside the

3rd Long Range Wasteland Patrol

in their ongoing attempt to map and reestablish communication following their emergence from the underground facilities.

Most notably, there's an onboard computer for logging the movement of the bike, alongside with a highly advanced GPS(r) module and a portable music player, able to store up to 80 songs! The wide tyres makes it well equipped for tackling most of the wasted landscape. Able to cruise at a maximum speed of 200km/h under optimal conditions makes it equally suited for high speed pursuit, or retreat.
The model itself was a Games Workshop Space Marine Scout Bike, modified with various plastic bits I had lying about, painted very fast with a lotof block painting and then covered in the Devlan Mud wash from Games Workshop.
Currently, I'm working on the rider for this bike - as well as the rest of the
3rd Long Range Wasteland Patrol
including their own Mobile HQ. Stay tuned!
(Oh, and merry christmas and happy new years to you all!)